General
Public announcements
Recycle all
DISPOSAL OF AUTOMOBILE SHREDDER RESIDUE (ASR)
The dismantler collects airbags from end-of-life vehicles (or delivers them to the automaker for on-board operation treatment in the case of contractors), removes useful parts such as engines and doors, and then delivers the dismantled vehicle to a shredder.
AFTER SHREDDING A DISMANTLED VEHICLE, THE SHREDDING COMPANY COLLECTS USEFUL METALS SUCH AS IRON, AND DELIVERS THE SHREDDER DUST COLLECTED DURING THE SHREDDING PROCESS AS AUTOMOBILE SHREDDER RESIDUE (ASR) TO THE AUTOMAKER OR OTHER PARTIES.
UNDER THE AUTOMOBILE RECYCLING LAW, AUTOMOBILE MANUFACTURERS, ETC. ARE OBLIGATED TO RECYCLE ASR AND MUST BE CERTIFIED BY THE MINISTER OF ECONOMY, TRADE AND INDUSTRY AND THE MINISTER OF THE ENVIRONMENT REGARDING THEIR SYSTEM. (ARTICLE 28 CERTIFICATION OF THE LAW)
IN ADDITION, THE SYSTEM PERMITS THE USE OF DISMANTLED AUTOMOBILES AS RAW MATERIALS FOR STEEL PRODUCTION IN ELECTRIC FURNACES AND CONVERTER FURNACES IN JAPAN BY ENTRUSTING DISMANTLING COMPANIES AND PRESS AND SHEAR PROCESSING COMPANIES TO PERFORM SOPHISTICATED DISMANTLING AND OTHER PROCESSES. IN THE CASE OF DOMESTIC RECYCLING OF DISMANTLED VEHICLES IN A MANNER THAT DOES NOT GENERATE ASR, THE SYSTEM MUST BE CERTIFIED BY THE MINISTER OF ECONOMY, TRADE AND INDUSTRY AND THE MINISTER OF THE ENVIRONMENT. (ARTICLE 31 CERTIFICATION OF THE LAW)
ASR PROCESS FLOW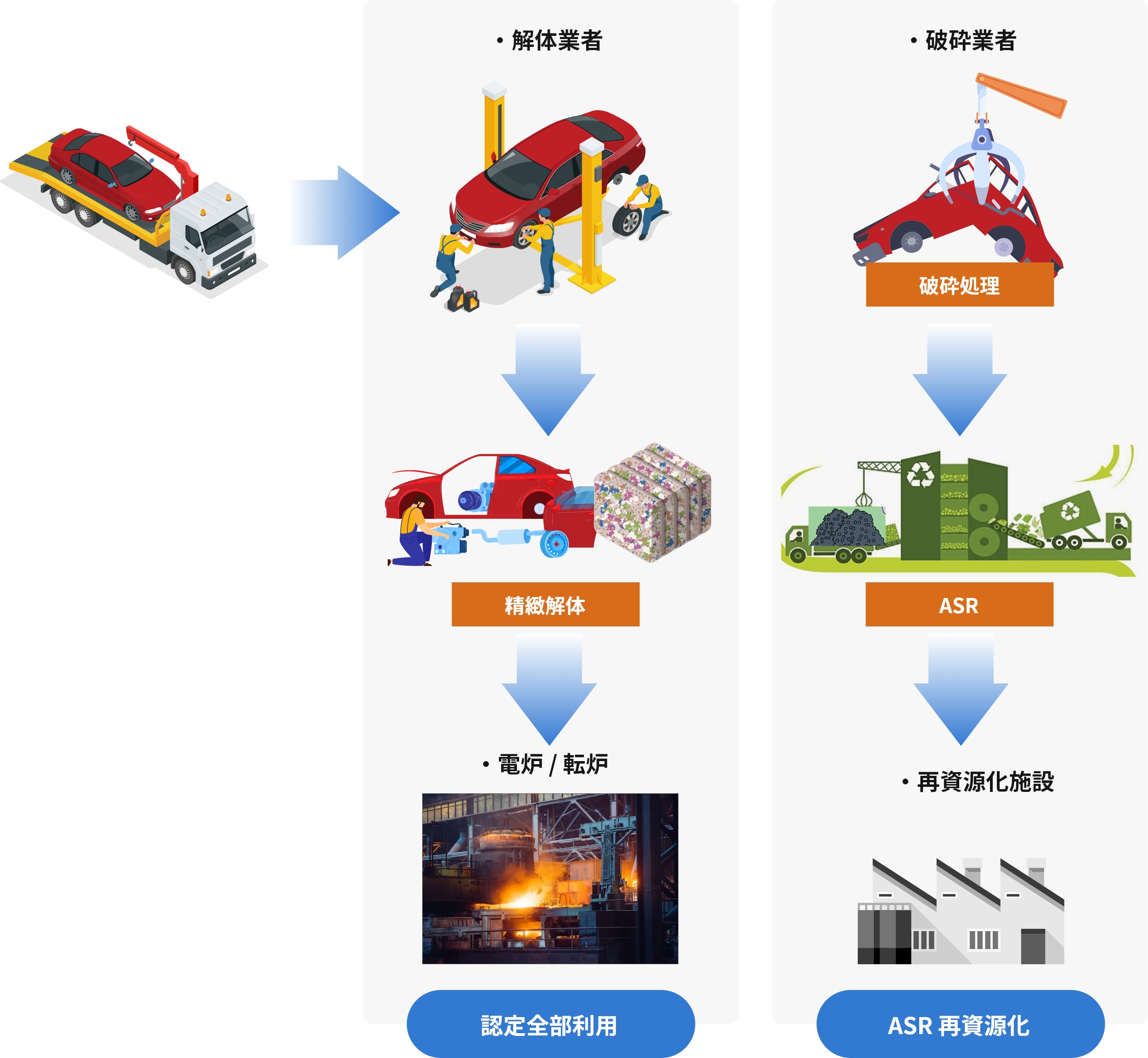 ASR PROCESSING SYSTEM
THE AUTOMOBILE RECYCLING LAW MAKES IT DIFFICULT TO CLASSIFY ASR BY AUTOMAKERS IN THE SHREDDING PROCESS, AND IT IS EXPENSIVE FOR AUTOMAKERS TO ESTABLISH THEIR OWN RECYCLING SYSTEMS. THEREFORE, THE TWO TEAMS ARE WORKING TO REDUCE RECYCLING FEES AND IMPROVE THE RECYCLING RATE BY COMPETING IN THE DEVELOPMENT OF RECYCLING SYSTEMS AND TECHNOLOGIES. JRCPA HAS BEEN COMMISSIONED BY THE AUTOMOBILE SHREDDER RESIDUE RECYCLING PROMOTION TEAM (ART) OF THE TWO TEAMS TO PROMOTE THE FOLLOWING ACTIVITIES.
Member Manufacturers, etc.
Isuzu Motors Limited
(Japan Automobile Cycle Promotion Center
Jaguar Land Rover Japan
Suzuki Motor Corporation
Nissan Motor Co.
Volvo Car Japan
Mazda Motor Corporation
Mitsubishi Motors Corporation
Mitsubishi Fuso Truck and Bus Corporation
Mercedes-Benz Japan
SUBARU
UD Trucks
Member Manufacturers, etc.
Daihatsu Motor Co.
Toyota Motor Corporation
Hino Motors, Ltd.
Honda Motor Co.
BMW
Volkswagen Group Japan
Stellantis Japan

Japan Automobile Recycling Cooperation Organization Nissan Creative Services
ASR RELATED SERVICES
Proposal, review, and maintenance of all-use consortiums
Ministerial applications and reports to the Ministry of Economy, Trade and Industry and the Ministry of the Environment
Payment of recycling and processing fees to related businesses
About take-back criteria
To ensure smooth and efficient take-back and recycling of ASR, we have established take-back standards.
For details, please click here.
Approach to take-back standards
Designated pick-up locations
To ensure proper pickup of ASR, designated take-back locations are designated throughout Japan.
For details, please click here.
Designated Trading Places
RESULTS OF ASR RECYCLING, ETC.
If you are considering implementing whole recycling, you will need to submit a consortium proposal to both ART/TH teams respectively and sign a
contract.
For more information, please see the following section.
Consortium Proposal Acceptance
Operation of all recycling operations
Regarding all vehicles subject to recycling [Procedure for checking vehicles subject to recycling].